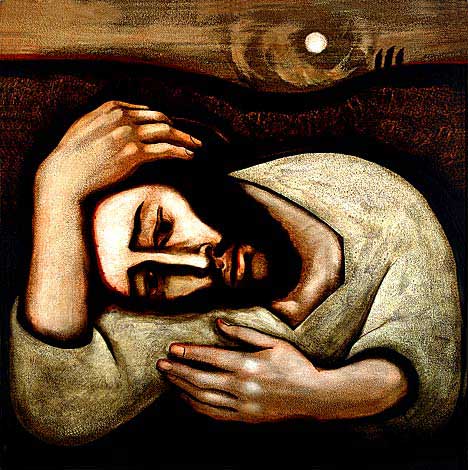 Last week, I talked about my dear friend Pat's funeral; about how it was the best funeral I have ever had the privilege of attending. It was really, really wonderful. If you haven't read about it, I invite you to do so here: Best Funeral Ever. For me, the best part of that funeral was a personal videotaped message from Pat, where she told us about three dreams she had. She said it was God's way of reassuring her that there was a real place called Heaven, and that she would soon be joining Him there. Her dying wish was that we all join her there someday, too.
Jeff talked about Pat's funeral the Sunday after her funeral. He also talked about the last prayer of Jesus before that fateful day at Calvary.
John 17:20-26 (New International Version)
Jesus Prays for All Believers
20″My prayer is not for them alone. I pray also for those who will believe in me through their message, 21that all of them may be one, Father, just as you are in me and I am in you. May they also be in us so that the world may believe that you have sent me. 22I have given them the glory that you gave me, that they may be one as we are one: 23I in them and you in me. May they be brought to complete unity to let the world know that you sent me and have loved them even as you have loved me. 24″Father, I want those you have given me to be with me where I am, and to see my glory, the glory you have given me because you loved me before the creation of the world. 25″Righteous Father, though the world does not know you, I know you, and they know that you have sent me. 26I have made you known to them, and will continue to make you known in order that the love you have for me may be in them and that I myself may be in them."

I've sat next to more than one person on their death bed. Here's the thing: they don't talk about the weather, or how they're really going to miss chocolate ice cream. They talk about what is most important to them. Just a few days before my friend Dee died, she took both of my hands, looked me straight in the eyes and said, "Continue to do the work that God has called you to do." I'll never forget those words. They keep me going when I get frustrated about one thing or another about my walk with Christ.
If we can agree that someone who knows their death is imminent speaks only of things that they consider of the utmost urgency, can we also agree that the Son of God felt an urgency to share the words in the above scripture to the Fellowship of Believers? I know I have a new perspective on that passage. It's a REALLY BIG DEAL people!